Inkjet versus Laser Printers: which one is the best for you?
If you're looking for a new printer, you might be wondering whether to go for an inkjet or a laser model. Both types have their pros and cons, depending on your needs and preferences.
In this blog post, I will compare inkjet and laser printers on some key factors, such as cost, speed, quality, and maintenance.
I will also share my personal preferences.
COST
Inkjet printers are usually cheaper to buy than laser printers, but they can be more expensive to run in the long term.
Ink cartridges need to be replaced more often than toner cartridges, and they can dry out if you don't use them regularly.
Laser printers have a higher upfront cost, but they can save you money on printing costs over time. Toner cartridges last longer than ink cartridges, and they don't dry out.
Inkjet and tank technology: for the last 3–5 years, inkjet printers using the tank technology (ink refill is performed using ink bottles instead of cartridges) have taken off and are becoming a great option if you need to print large quantities in full colour. Upfront cost of a tank printer is similar (or sometimes more) than laser printers.
Each manufacturer labels its tank technology differently: Epson's EcoTank, HP's Smart Tank, Canon's Megatank, etc.
SPEED
Laser printers are faster than inkjet printers, especially when printing large volumes of documents. They can print up to 30 pages per minute, while inkjet printers can print up to 15 pages per minute. Laser printers also have a shorter warm-up time than inkjet printers, which means they are ready to print as soon as you turn them on.
QUALITY
Inkjet printers are better than laser printers for printing photos and graphics, as they can produce more vibrant colors and finer details. They can also print on a wider range of paper types, such as glossy, matte, or textured. Laser printers are better than inkjet printers for printing text and documents, as they can produce sharper and more consistent results. They can also print on heavier paper types, such as card stock or labels.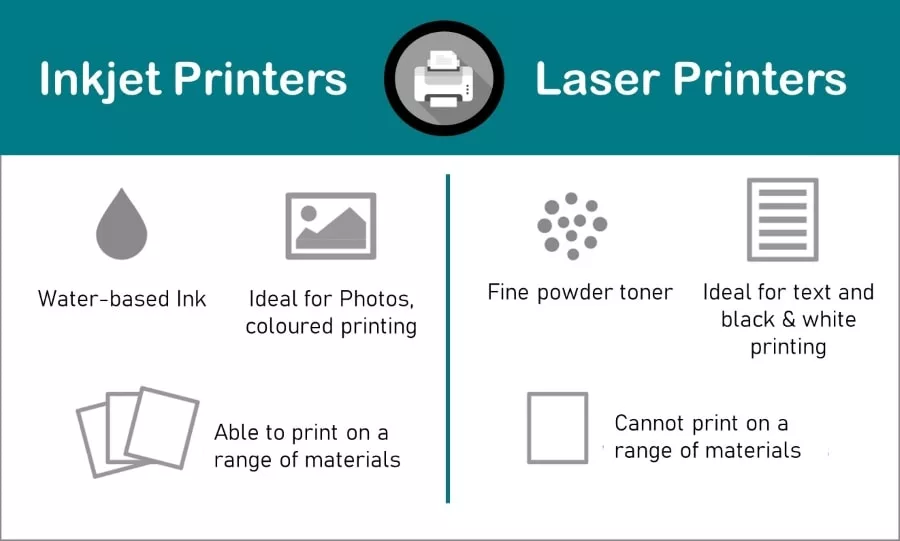 Image Source: businesstechweekly.com
MAINTENANCE
Inkjet printers require more maintenance than laser printers, as they need to be cleaned regularly to prevent clogging and smudging. They also need to be aligned and calibrated to ensure optimal performance. Laser printers require less maintenance than inkjet printers, as they don't have any moving parts that can wear out or break down. They only need to be cleaned occasionally to remove dust and debris.
I often get service calls requiring to deal with inkjet clogging. Unfortunately, most of the time there is no easy fix because either:
The printer is severely clogged because it has not been used in months or
The time it takes to clean makes the service call too expensive compared to just buying a new one.
MY RECOMMENDATIONS AND WHAT I DO LOOK FOR WHEN BUYING A PRINTER
I have two printers in the office, a laser Brother DCP-L2540DW and an inkjet HP DeskJet 4152e. I use the laser one for printing documents and drafts and the inkjet I use for printing photos, work orders (I like to see my logo in full colour) and anything I want to look nice and full colour.
Also, the inkjet is my daughter's printer of choice.
Here's what I look for:
Network Ready – both Wi-Fi and Ethernet: this is a must for me since I need to have my printers' network-accessible, so I can print from multiple devices.
This is pretty much standard these days.
Feeder: I usually scan multiple documents at once, and a printer with a top feeder is also a must for me. Scanning one page at a time on a printer that has no feeder, but only the glass bed, can be cumbersome and frustrating.
A good deal: I have bought many printers, and I always try to check Boxing Day or Black Friday deals.
In addition, I check Amazon often, and I've bought a couple during Prime Day and the savings were between 30-60%.
Inkjet subscription: I used to criticize HP for the ink subscription push they do when you set up a printer for the first time, until I tried it myself. I believe this is a good deal if you don't print too much, but often.
I got the $4/month subscription, and it gives me 50 pages/month, full colour and I get new ink when I am running low.
Best of all, unused quota rolls over next month. I did the math, and this is a good deal for my printing habits.
CONCLUSION
Inkjet and laser printers both have their advantages and disadvantages, so the best choice for you depends on your printing needs and budget. If you print mostly photos and graphics, or if you want a low-cost printer for occasional use, an inkjet printer might be the best option for you.
If you print mostly text and documents, or if you want a fast and reliable printer for frequent use, a laser printer might be the best option for you.
Featured image source: coachellavalleyweekly.com